★★★★★
Courtesy of my sister, I found that she had put this book in my holds from the library. And I got the first copy! It's all new and fresh.
This book was so, SO good. If it hadn't had been for school, I would have completely devoured this book in a day. Unfortunately my reading time was prolonged to about three weeks. The good thing is that I could enjoy this amazing book for a very long time. Before I get started, here's a summary taken directly from Goodreads:
Gina Royal is the definition of average—a shy Midwestern housewife with a happy marriage and two adorable children. But when a car accident reveals her husband's secret life as a serial killer, she must remake herself as Gwen Proctor—the ultimate warrior mom.

With her ex now in prison, Gwen has finally found refuge in a new home on remote Stillhouse Lake. Though still the target of stalkers and Internet trolls who think she had something to do with her husband's crimes, Gwen dares to think her kids can finally grow up in peace.

But just when she's starting to feel at ease in her new identity, a body turns up in the lake—and threatening letters start arriving from an all-too-familiar address. Gwen Proctor must keep friends close and enemies at bay to avoid being exposed—or watch her kids fall victim to a killer who takes pleasure in tormenting her. One thing is certain: she's learned how to fight evil. And she'll never stop.
This book is a psychological thriller, so it's already something I know I'll be interested in. But I really enjoyed this book, far more than any other thriller I've read. There's so many elements all brought together into one story: intrusion, murder, mystery, and more. It all worked together really well.
Gwen Proctor, formerly known as Gina Royal, is the main character and the whole story is told from her perspective. The author, Rachel Caine, captured Gwen's thoughts so well. It felt very real. Gwen's thinking is so detailed and personal it feels almost relatable in a way. Her tough personality mixed with her love for her kids makes for a well-layered character. Sam Cade, her neighbour, is the next best character. He has quite a bit of depth and he's essential to the plot. Everyone else is arguably minor in comparison to Gwen's strong personality. Melvin Royal, Gwen's serial killer ex-husband, is terrifying. Caine nailed expressing his creepy vibes despite his limited appearance in the book. Whenever he was mentioned, I shuddered a bit.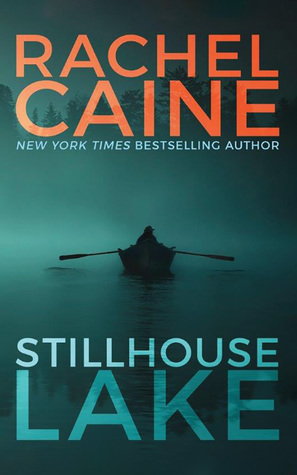 By default, I dislike books with too many characters. I have enough going on in my life that's more important than remembering the names and backstories of everyone. Thankfully, this book was perfect. I wasn't constantly scratching my head, trying to recall someone's relevance when I should be focusing on the plot. I was comfortably reading.
The book is a reasonable length. It had just the right amount of action and suspense. I didn't find it to be overly long and drawn-out either. The suspense was crazy. I found myself reading well into school nights because I just couldn't put the book down. Some parts were so suspenseful, I would be reading and be so completely lost in the book that I lost track of time and found out I had been reading for about two hours straight (which is a long time because I should have been doing homework). I couldn't really blame myself though. This book had high-speed chases, gun fights, possible intruders, vandals, Internet trolls, police questionings, and more. I mean, come on.
I just recently discovered that there's going to be a sequel, called "Killman Creek", released this December. The cliffhanger at the end of this book was brutal, so it's understandable. There's only about two more months until that one, so I'm okay. I'm not going to spill about the ending because you should really (!!!) read this book. It's too good.
If this sounds like something you might enjoy, you probably will! I highly recommend this book to anyone who enjoys psychological thrillers or mysteries. "Stillhouse Lake" is definitely one of my top books from this year. If you know any books similar to this one, please leave a comment and let me know. Thank you for reading!